The best guide on how to convert pdf to html offline for free in 2021
In the Reddit community, many friends ask questions, how to convert pdf to html web page format for free?
Or, how to convert pdf to html offline for free, the best guide for 2021?
Below, I will share a free, offline operation guide for convert pdf to html.
1. Prepare materials
1.1 A Windows computer
1.2 Download and install Sanbrowser browser (About how to install Sanbrowser on Windows?)
1.3 Some pdf files
2. Operation guide
2.1 Open Sanbrowser browser
Here, we need to explain, why use the Sanbrowser browser? Sanbrowser is a browser based on Chromium.
It can surf the Internet simply, faster and more securely. At the same time, it also comes with a pdf converter tool,
the internal name of this tool is Sanconvertor. (About what is Sanconvertor?)
After opening the browser, click the small pink button at the top right of the software interface to see the Sanconvertor interface.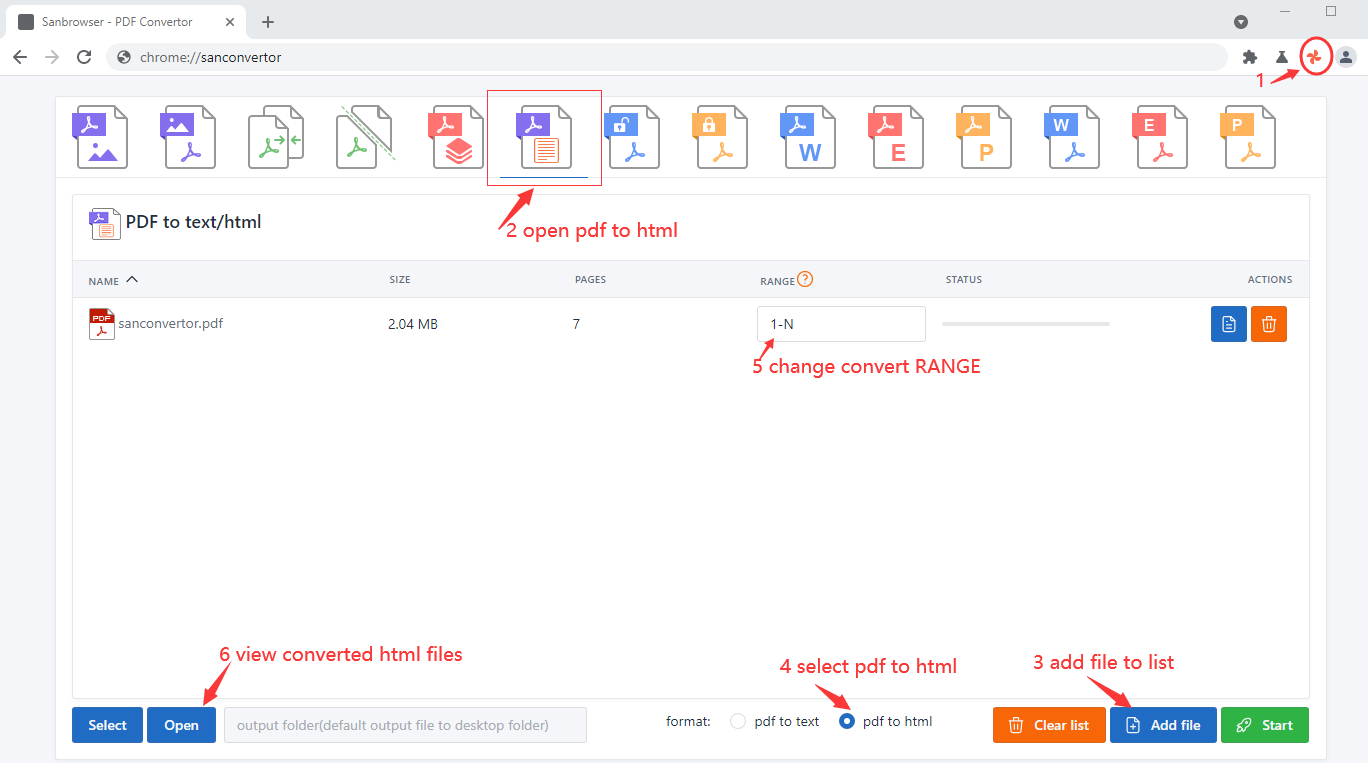 2.2 Next, click "pdf to html" on the function panel.
2.3 Pass, click the "Add file" button to add the pdf file to the converter file list.
2.4 Set the RANGE parameter, which refers to which pages of the pdf file need to be converted into html web page format.
The default value is 1-N. For more detailed parameter settings, see How to set the convert range of Sanconvertor?
2.5 Click the "pdf to html" radio button
2.6 Click the "Start" button to launch the pdf to html converter
2.7 When the progress bar of the converter shows 100%, it means that the convert of pdf to html has been completed.
2.8 Click "Open" to view the converted html file
2.9 When you need to convert other pdf files, you can click the "Clear list" button to clear the converter file list. Then repeat the above steps.
Ok, so far we have introduced the operation steps of pdf to html. Now, use Sanbrowser to solve the problem of convert pdf to html.
Sanbrowser
656
pdf to html
convert pdf to html
sanconvertor
pdf convertor